Fishing
We would like to introduce to you our fishing guide Martin Simpson, not only is Martin a avid angler but is also an accomplished artist. If you are a keen Angler and would like to experience some of the best kept secret trout fishing waters in New Zealand we urge you to visit Martin's web page. Martin offers a service that is unique and in keeping with our policy of catch and release, he puts this so well on his site:
"The highest angling attainment is not catching a trophy fish, but in releasing it."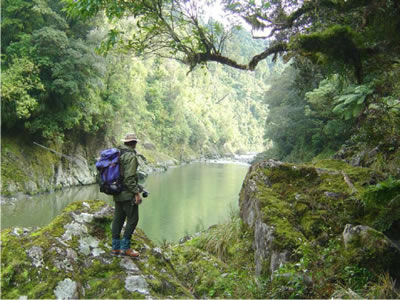 Martin is a graduate of the Wellington School of design, a freelance illustrator/ designer and an art & photography tutor, he is able to combine his love of fresh water Angling with his artistry to produce the most astounding life like portraits of your fish.
Martin is well acknowledged and recommended by many of New Zealand's most "exclusive" fishing Lodges and guides, his Trout portraits can be found in the private collections of anglers as well as fine art lovers all over the world.
Some of our best fishing is to be had in the Tararua Forest Park:
Totara Flats: ln the Waiohine River – There is accommodation at the new Totara Flats Lodge
Waitawaewae Hut: In the Otaki River
Cow Creek Hut: In the Waingawa River
Mangahao Flats: In the Mangahao River
Tutuwai Hut: In the Tauherenikau River
Tramping
Whether you're new to tramping, tramped for years or belong to a club, AHNZL can tailor a package to suit your individual needs. Our pilots' knowledge of these areas, advice and experience is second to none and they are happy to advise and help you plan your expedition.
Whether it's a new experience or you're revisiting those favourite tramping spots, we have something for everyone. The Tararua Forest Park has some of the most rugged terrain in NZ, using the versatility of the helicopter we can enhance your tramping experience getting you to the inner park opening up the options to exploring some of the most unforgettable landscapes New Zealand has to offer.