Services we provide:
Specialists in all agriculture spraying
Sensitive location weed control for Department of Conservation & Regional Councils
Aerial Lifting
Aerial Survey & Inspection Flights
Vineyard and Orchard Frost Protection
Fire Fighting
Specialists in control of introduced wild animal species – Rooks, Goats, feral Deer, Goats & Pigs since 1987
Filming of Rally and other sporting events
Search & Rescue
Heli Tree Trimming nation-wide – click here for more information
Aerial Lifting
Lifting and placement of power poles in inaccessible sites, Fencing materials, Building materials, Water Tanks & Troughs
Remote location work AHNZL service the Tararua Forest Park, Rimutaka Forest Park & Haurangi Forest Parks and hold all necessary concessions to do so
Transport of materials and staff to remote sites such as Radio Repeaters & trig sites, Scientific equipment, remote construction projects
Aerial lifting of concrete for telecommunication aerials, building site foundations, power pylons, Repeater stations, bridge Construction
Fast, efficient and accurate placement of metal for track maintenance in remote locations
Support equipment available: Ground to air communications, Concrete Skips, Metaling Buckets, Power Wire Jennies, remote Tripple Release Hook, Long Lines, Strops, Nets, Chains
If the answer to your projects lifting challenge is a helicopter we have the equipment, ability, versatility and experience to solve your problem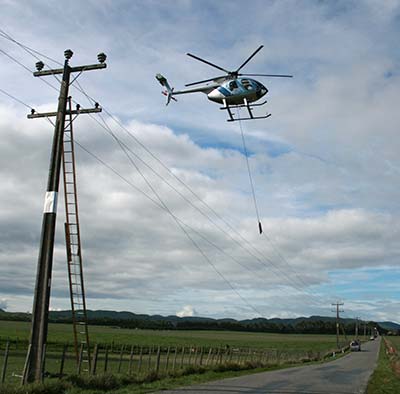 Pulling wires for a power company
Aerial Survey & Inspection Flights
Power Line inspection flights
Emergency line inspections for fault location
Farm & Property surveys & inspections
Immediate response to fire site for fast identification of fire status
Fire Fighting
AHNZL have a 24hr 7 day manned immediate response team during the fire season.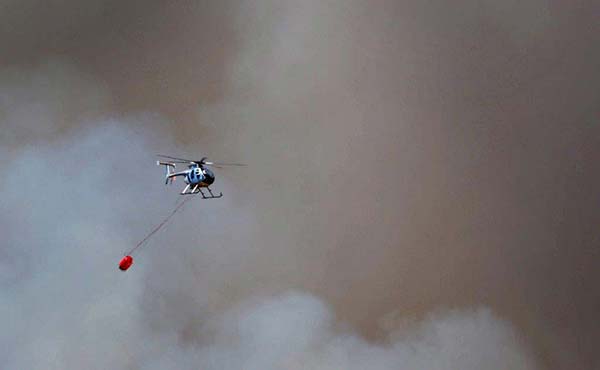 Equipment available at our base includes:
Hughes 500E
Robinson R44 available for 'eye in the sky' inspection aircraft for fire staff
Collapsible Monsoon Buckets for ease of transport
C-Dax foaming unit
Ground to air communications
Our radios hold all local emergency services channels
Trained experienced ground crews and support vehicles
Fuel Tankers for on site refuelling of aircraft
Back up equipment on request: Squirrel Helicopter, Lama, Jet Ranger, 500E all helicopters have experienced pilots and come with there own Monsoon buckets and foam injection units, trained ground support personnel
AHNZL are the first call for all emergency remote location fires in the Wairarapa Region, We have built a reputation that is trusted and relayed on by all our local emergency services AHNZL dedicates an immediate response helicopter and trained team to be on duty over the fire season this team will respond at a moments notice, a helicopter is deployed immediately to ascertain fire status our pilots are trained in accurate assessment of fire behaviour enabling them to pass this very important information directly to teams on the ground.
Search & Rescue
AHNZL are first call in the Wairarapa region for Search & Rescue emergencies. Our company has been involved with SAR in the Wairarapa since AHNZL inception in 1987, over this time our pilots have assisted in saving many lives and have been involved in several high profile operations.
The Directors recently attended a meeting at the Masterton District Council Chambers, where they presented a speech, part of which was to detail some of the rescues the company had been involved in, they worked backwards through their records and in the space of an 8 year period decided to call it a day with over 106 Search & Rescue, Police and Rural Fire Emergencies responded to by our chief pilot alone.
Some of the higher profile operations AHNZL has assisted with include:
The search for Corral Barrows – Our Pilot and crew were responsible for locating Corrals school bag which was discarded in a flooded river, with some expert flying they retrieved it and in doing so changed the course of the investigation.
The Powell Hut murder enquiry – AHNZL Supported and transported Police staff and Forensic staff to and from the site over many weeks in very trying conditions.
Search for Micheal Peacock – AHNZL were instrumental in the search, location and subsequent rescue of Micheal Peacock for which our Director and Chief Pilot Jason Diedrichs was awarded a certificate of appreciation from the Commissioner of Police Rob Roberson. See details on our news archive.